The idea of unmanned drones flying together in expansive swarms may at first sound chaotic and unpredictable – yet with the right approach, these machines can enable their users to carry out coordinated and highly advanced missions. Through their research, John Sauter and colleagues at SoarTech have developed DSOARS – a transformative software that enables drones to mimic the behaviours of swarming animals found in nature. Their architecture now paves the way for real-world applications – from tracking forest fires and storms to aiding rescue missions.
As the most complex organ in the human body, conditions affecting the brain can deleteriously severe impacts on people's lives. In this riveting and thought-provoking issue of Scientia, we showcase the scientists who are charting new frontiers in psychological and brain sciences to build brighter futures and improve well-being for all.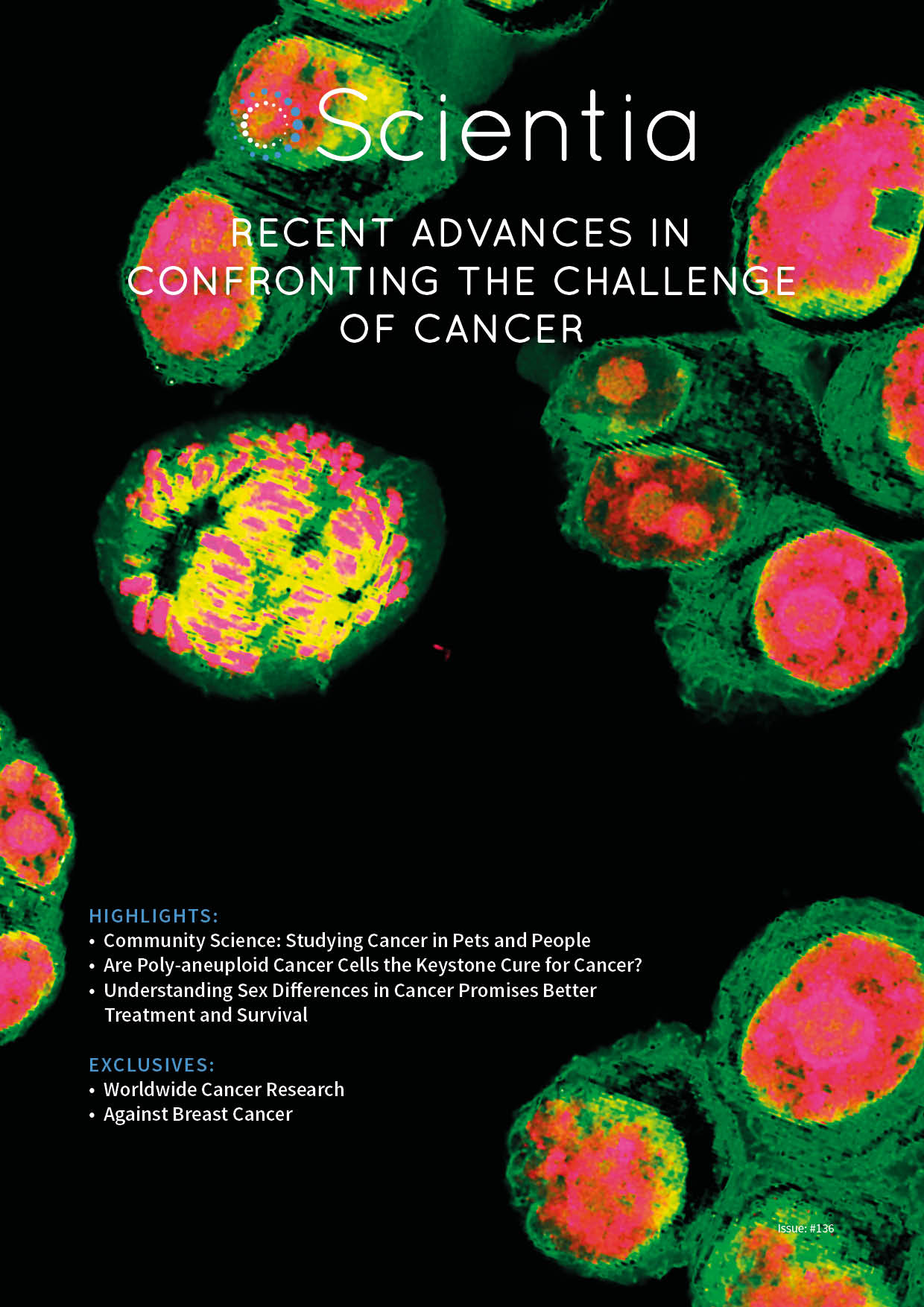 In this critical issue of Scientia, we showcase the work of scientists confronting the global challenge of cancer. Read the latest research on causes, risk factors, diagnosis and treatment that is revolutionising patient care.
Building a robust STEM community is dependent upon innovative and inclusive education, from primary school to university and beyond. Therefore, this issue showcases an inspiring collection of projects, each seeking to enhance STEM education worldwide.
Despite the old adage 'nice guys finish last', cooperation is common in life – from the scale of genes or cells through to entire societies. Although these two ideas seem to contradict each other, Dr Egbert Giles Leigh Jr has demonstrated throughout his career at the Smithsonian Tropical Research Institute in Panama that working together has been the key to the success of multicellular life. Here, he explains his view of how competition and cooperation both played essential roles in bringing forth productive, diverse ecosystems.
The Louisiana coastal zone is the fastest-eroding wetland in the US. This region is home to a variety of vitally important fish species for local fishing industry and ecosystems, which are currently under threat. Conservation schemes have been proposed under the 2017 Louisiana Coastal Master Plan in an attempt to preserve coastal habitats and their inhabitants. Dr Kim de Mutsert of the University of Southern Mississippi and her colleagues use simulations to reveal how different management strategies will affect fish and shellfish up to 50 years from now.
We encourage all formats of sharing and republishing of our articles. Whether you want to host on your website, publication or blog, we welcome this. Find out more
For over a year-and-a-half, countries worldwide have been trying to manage the outbreak of COVID-19. The ongoing pandemic came as a surprise for most people. In many ways, the virus reminded us of just how powerful and unpredictable nature can be.
No pay walls. No subscription walls. No language barrier. Simple instant public access to science – opening a dialogue between science and society.
Scientia adheres to the open access policy. Open Access (OA) stands for unrestricted access and unrestricted reuse.