The pursuit to design more lightweight aircraft that can travel over greater distances never ceases. One area that has received much attention is the development of lighter and more aerodynamic antennas. Researchers at the NASA Glenn Research Center are at the forefront of this effort. The research team, which includes Jessica Cashman, Baochau Nguyen, Haiquan Guo, Marcos Pantoja, Kevin Cavicchi, and Mary Ann Meador, is designing flexible polymer materials that can be used to construct lightweight, low-drag antennas that lie along the surface of an aircraft.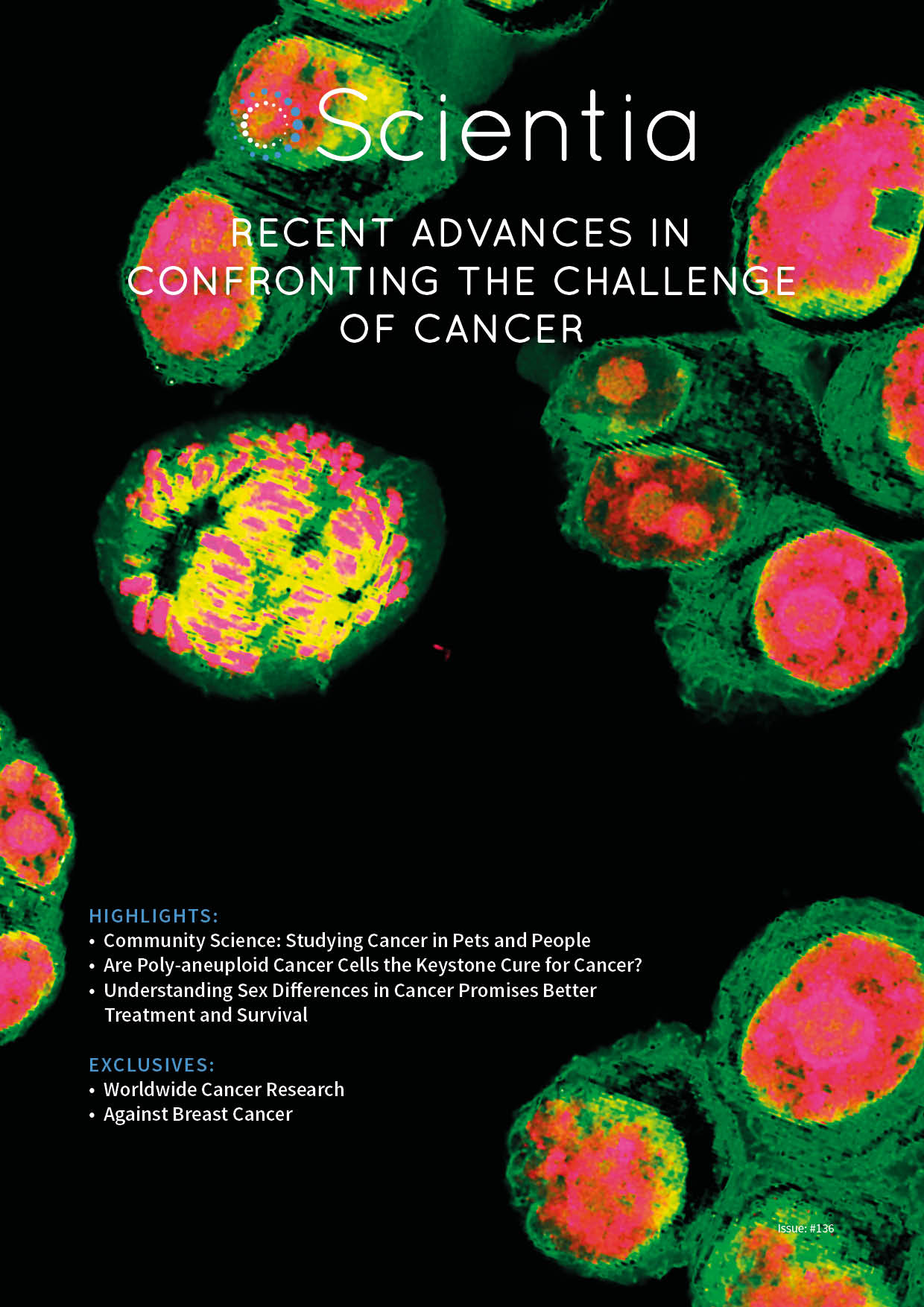 In this critical issue of Scientia, we showcase the work of scientists confronting the global challenge of cancer. Read the latest research on causes, risk factors, diagnosis and treatment that is revolutionising patient care.
Building a robust STEM community is dependent upon innovative and inclusive education, from primary school to university and beyond. Therefore, this issue showcases an inspiring collection of projects, each seeking to enhance STEM education worldwide.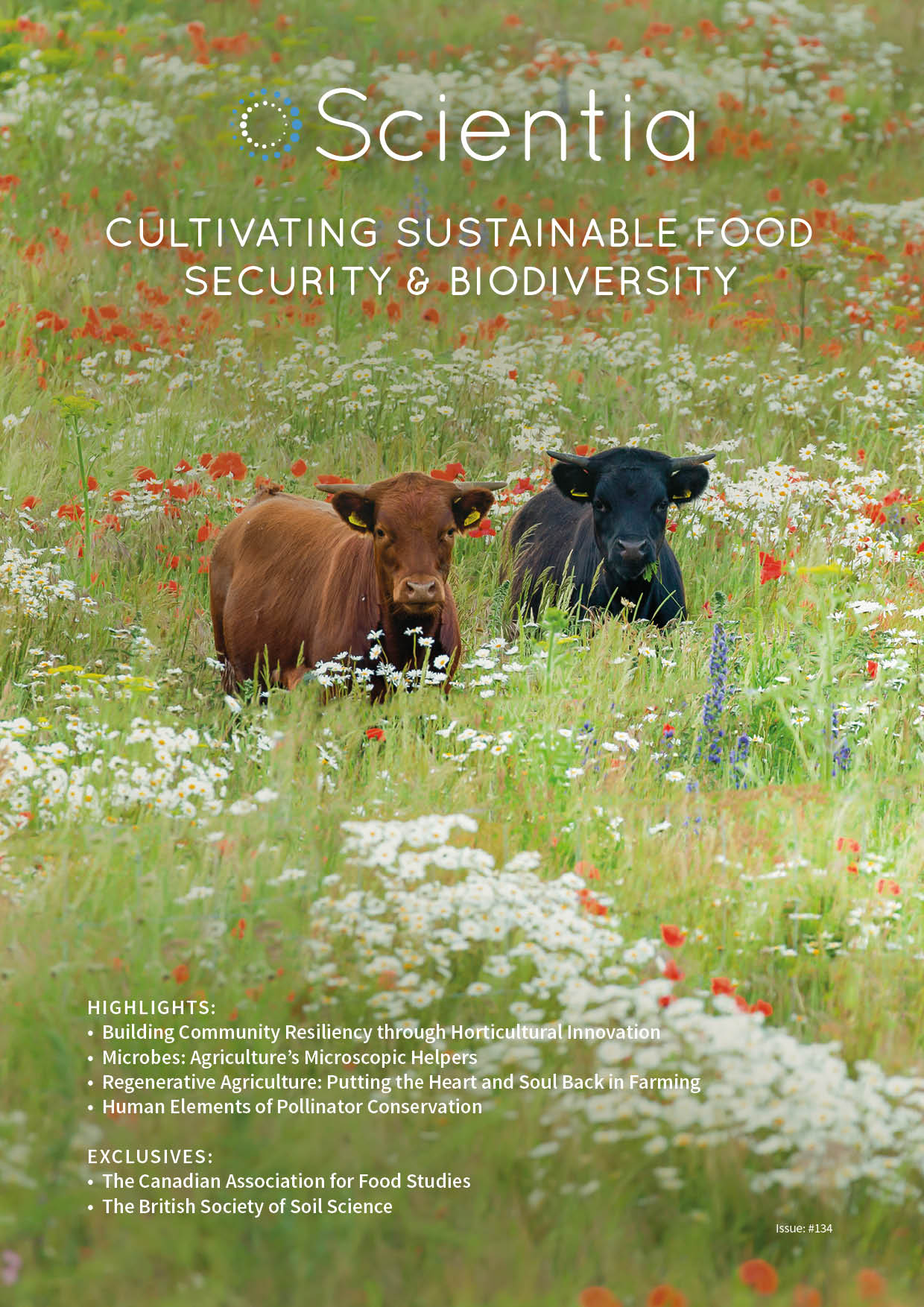 While the world's attention is focused on eradicating COVID-19, we must not forget that unsustainable farming practices and the ensuing biodiversity declines were leading factors in the emergence of this devastating disease. To prevent future pandemics, we must now find new ways to feed the human population while also protecting and restoring Earth's biodiversity. Such sustainable agricultural methods have a range of other positive impacts, including climate change mitigation, improved animal welfare, and reduced social inequality.
The climate crisis and the chemistry of the oceans are inextricably connected. The oceans have absorbed close to a third of our carbon dioxide emissions since the beginning of the Industrial Revolution, leading to an increasingly acidic environment and making it more difficult for organisms such as corals, molluscs, and plankton to form their shells and skeletons. Mapping future changes in ocean chemistry is the first step in developing mitigation strategies. However, our knowledge of the future state of the oceans relies on mathematical models that are often not calibrated with modern ship-based observations. Dr Li-Qing Jiang of the University of Maryland and his collaborators are improving ocean acidification predictions by coupling millions of past and present ocean chemistry measurements with the best model projections at each location of the global ocean.
The rise of antibiotic-resistant strains of bacteria and the ubiquitous nature of mercury in the environment are two major health hazards and concerns faced today. Professor Maria Ngu-Schwemlein and her team from the Winston-Salem State University, USA, are addressing these issues by developing biomolecules that can bind and immobilise toxic mercury ions more effectively. Together with Professor Ngu-Schwemlein's collaborators, the team is also investigating carbon nanodots as molecular scaffolds to enhance antibiotics in combating antimicrobial resistance.
We encourage all formats of sharing and republishing of our articles. Whether you want to host on your website, publication or blog, we welcome this. Find out more
Virtual Reality (VR) and Augmented Reality (AR) are immersive technologies that allow users to experience media content in more engaging ways, as if it was playing out in their immediate surroundings. This is achieved through the use of smart headsets, glasses, and other wearable devices with LCD or OLED screens integrated in them, such as Oculus Rift, HTC Vive, Playstation VR, and Microsoft HoloLens.
No pay walls. No subscription walls. No language barrier. Simple instant public access to science – opening a dialogue between science and society.
Scientia adheres to the open access policy. Open Access (OA) stands for unrestricted access and unrestricted reuse.